The Akron Public Library is a cornerstone of our community. The library is a respite from a stressful world. We provide entertainment while also serving as lifelong learning centers. Libraries reflect and help strengthen the economic health of communities as well as the people who use them. They are available for free to all. In person and online, we connect people to a whole world of ideas and information.

Libraries offer the heritage of the past as well as the promise of the future. The Akron Public Library has so much potential. To think that we started out with just books! Libraries are no longer just about books. Over the years, we've added magazines, newspapers, books on audio cassette and CD, videos and even computers to link everyone with the world outside. We do copies, faxes, scanning. We have a meeting room, right here, that can be used with no fee for the public.

Our library wanted to continue to grow and look to the future. The library board is progressive. They are visionaries that purchased the lot to our south and hope that this lot can become a reflection of our civic pride. We hope that it will become a community gathering place as well as a place for programs for both young and old for education, recreation and leisure.
Neighborhoods need to have places (like library gardens) where people can go and interact with others. This can be just like spontaneous "bumping into" each other, waving at a friend or just a place where people can plan to meet. It is thought that this type of environment enhances trust in each other, and can even make people healthier, thereby creating "social capital". To many residents, such contacts breed a sense of familiarity and predictability that most people find comforting. These occurrences could be of great importance for fostering a web of public respect and trust, and a resource in time of personal or neighborhood need.

The Akron Library with its new garden area is an investment in our future and the future of our citizens. And remember, all successful investments require attention, time and resources to remain valuable and to grow. Use your library, enjoy it, and support it -- it serves our community well.
And with the support and generous donations from partrons and businesses in our community, we were able to design, build and plant our garden in ONE summer! We installed irrigation, electricity, benches, a gaming table and a water fountain! We have many plans for our "outside library room".
The summer of 2007 will see our final planting and building with the installation of pergolas at each end of the walkway and native prairie grasses planted along the wall of the building.
People and places come and go. But the library will always be there as a source of inspiration and lifelong learning, changing and growing to meet our needs and the needs of our community.
From this...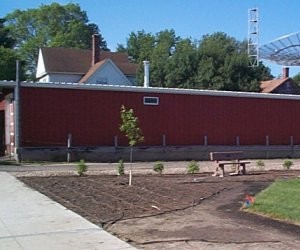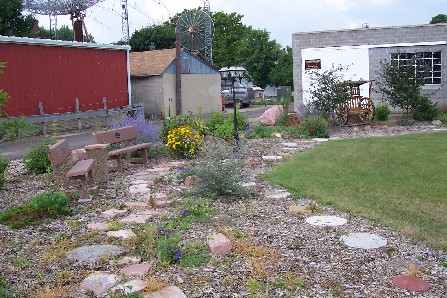 ...to this!

And this...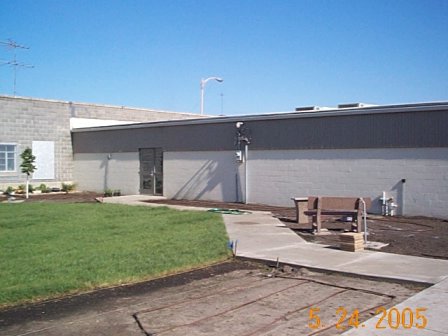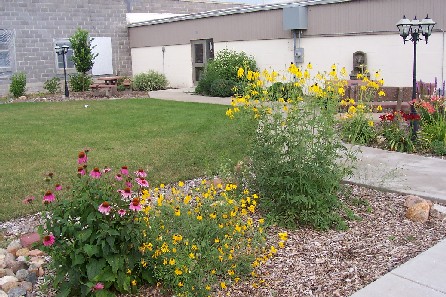 ...to this!

A few more pictures from our first full Summer!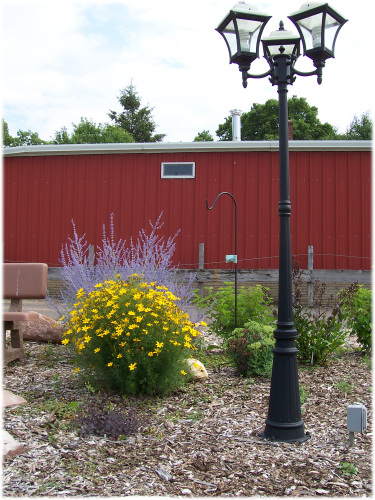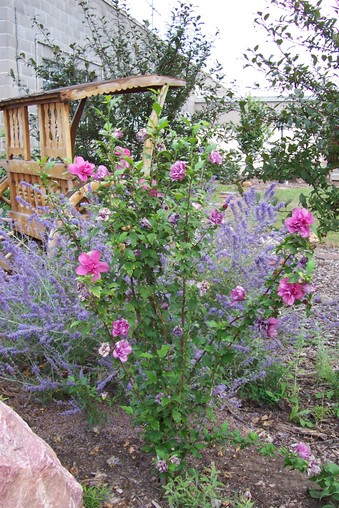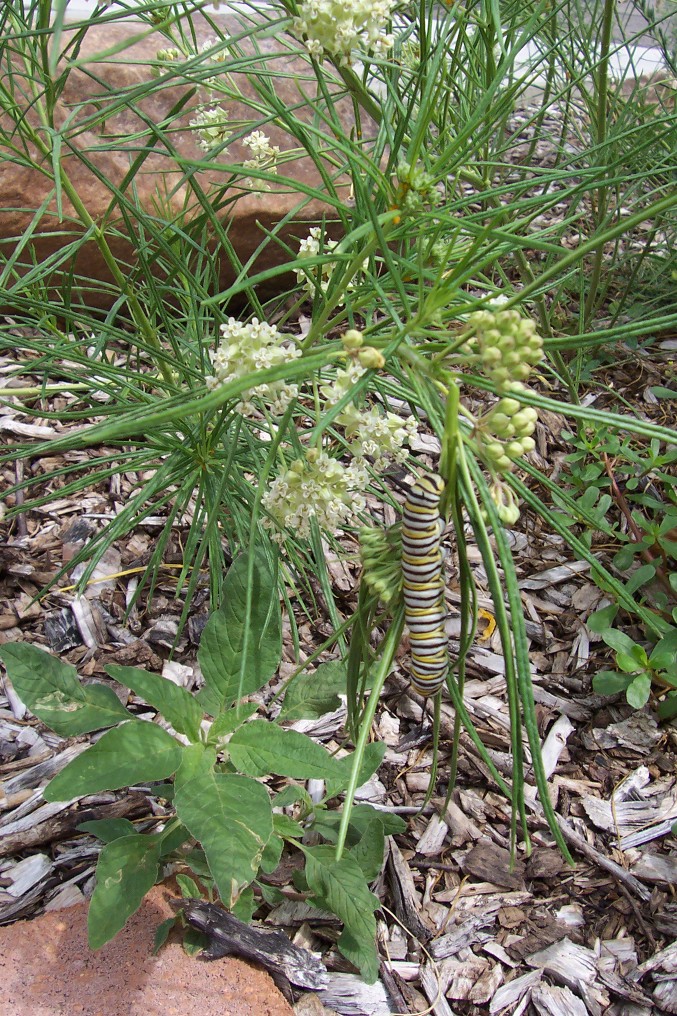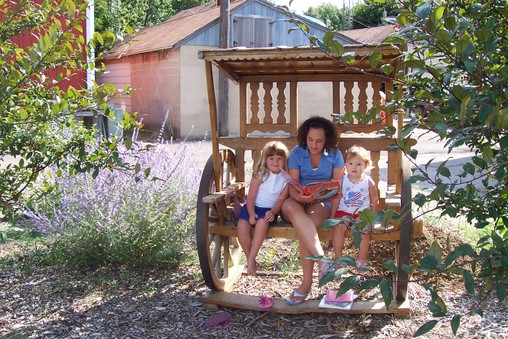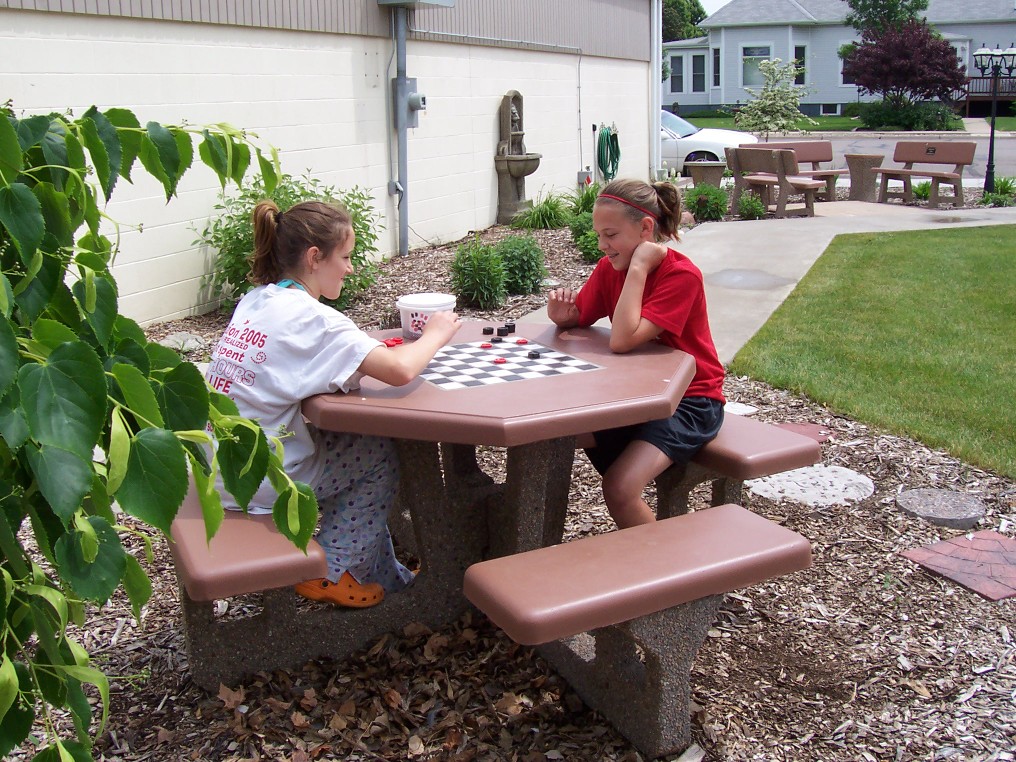 Our Library Garden is beautiful in every season!